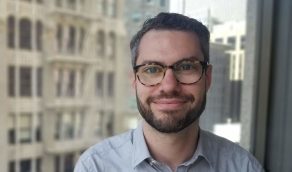 Regional Expertise
Subject Expertise
Data visualization, design, public policy, communications, editing
Josh Wheeling
Josh Wheeling is a senior associate based in San Francisco, though he helps all CPI offices communicate through data design.
Prior to joining CPI, Josh co-founded a data visualization company that worked with nonprofits, a refugee assistance group, and the City of Oakland. Before, he managed the data systems for Philadelphia School Partnership – which supports local schools serving minority and low-income students – and maintained the ratings for GreatPhillySchools.org, a tool to help parents compare and choose schools. He also led CamConnect, a small nonprofit working to democratize access to data in Camden, NJ. With the help of more than 80 volunteers collecting data on the city's 31,000 properties, Josh managed Camden's first citywide abandoned properties survey, and created an interactive housing map at www.camden-data.org. Before graduate school, he worked as a sports reporter and web editor at PhiladelphiaEagles.com, Philly.com, Comcast.net, and NBC Sports Philadelphia.
Josh has a B.A. in Economics and a Master's of Public Administration from the University of Pennsylvania.